MARKETING | 7 MIN READ
5 Reasons Why Insulin Pen Users Need VIVI Cap 1
Written by Our Team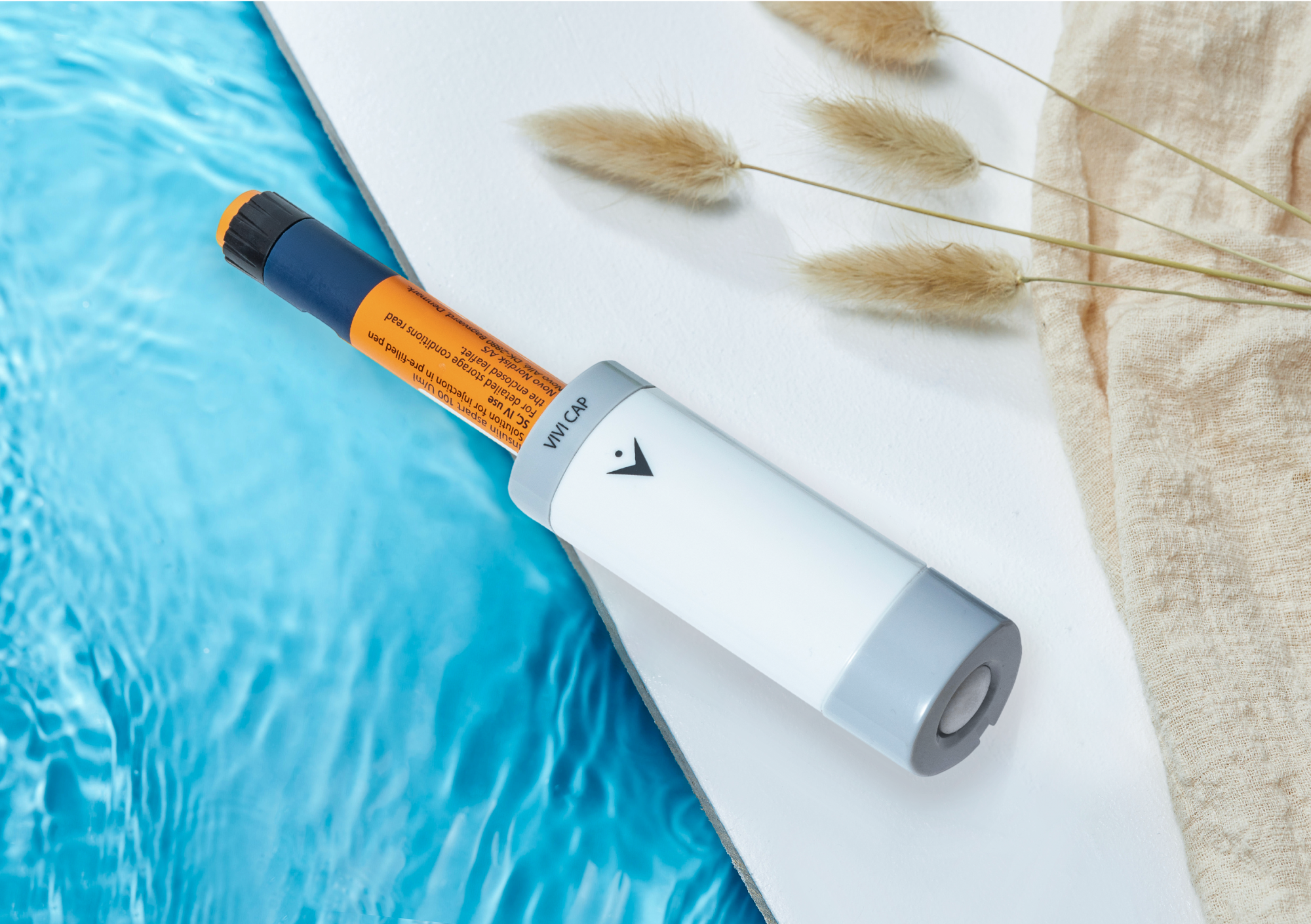 Most people aren't aware that their insulin loses potency or is damaged due to temperature changes. People are also unaware that damaged insulin can lead to unpredictable sugar levels. What's even worse is that this can also lead to an array of potential consequences we weren't even aware of yet…. until it's too late.

Some consequences range from increased blood sugar levels to symptoms like headaches, drowsiness, extreme hunger, increased thirst, frequent urination, and blurred vision.

It can even lead to financial consequences as well, as you'll see in a moment.
The truth is, protecting you and your insulin can potentially give you all the peace of mind, simplicity, and security you'll need to help you manage diabetes easily and live a full life. Here are five important reasons why VIVI Cap 1 can provide you with the insulin pen protection you've been needing.
---
1. Keep your insulin pen at the exactly right temperature it needs to be with VIVI Cap 1, and don't take any more risks.

If you take damaged insulin, you run a serious risk of having to increase your dosages permanently. Sadly, you might be completely unaware that you're taking damaged at all… if this happens, then you're unknowingly running the risks of symptoms like headaches, drowsiness, extreme hunger, increased thirst, frequent urination, and blurred vision.

The only way to get the peace of mind and comfort you really need is to safeguard your insulin pen so you can protect yourself, and your insulin too.

Thankfully, the VIVI Cap 1 helps you stay in control of your diabetes. Your insulin won't be damaged even in extreme temperatures, which ensures peace of mind and safety by making sure you're getting the right amount of insulin without compromising quality.

In fact, the VIVI Cap 1 was also scientifically validated and vetted in an academic study. These studies proved that your insulin won't degrade in different conditions or temperatures. The super insulation technology in VIVI Cap 1 was even tested and used in extreme and high-tech industries - like avionics, cryotherapy, and spacecraft. As a result, the VIVI Cap 1 keeps insulin temperatures safe even through fluctuations in light, heat, or an accidental drop.
---
2. The VIVI Cap 1 makes it simpler and easier to accept your Diabetes diagnosis, and to fully understand and manage your condition with ease.

Managing diabetes can be very complicated.

Sometimes, we end up taking higher insulin doses over time because our insulin is losing potency, or suffering from degradation in quality. Other times, we worry about how much maintenance is involved. We fear our insulin can be damaged, or needs ice packs, constant refrigeration, water, or battery charging.

Thankfully, the VIVI Cap 1 requires little-to-no maintenance at all. And the CLICK-N-GO™ technology makes it extremely simple to replace your pen cap with a VIVI Cap. Its' specifically designed to ensure the days of charging, ice packs, and batteries are over for good. Plus, you can carry this lightweight accessory in your pocket without any hassles.
---
3. Convenience and quality, even on the go.

The truth is, insulin can be VERY fragile. That's why the VIVI Cap 1 shields your insulin against freezing or overheating 24/7, 365 days a year. It even features the world's first FDA-registered thermal insulin cap. Not just that, but a high standard has been maintained throughout the production process of the VIVI Cap 1, making it suitable for daily use for many years to come.

This cap also makes your insulin pen easily portable, so you can spend more time with your family and friends, enjoying the activities you love.

Whether you are a senior citizen worried about keeping up with your grandchildren and their activities, or you travel for work, or even if you spend a lot of time outdoors or engage in athletic activity… then there couldn't be a better alternative than the VIVI Cap 1 when on the go. You can now go fishing, boating, swimming, traveling, and skiing without having to take an additional cooling pack.
---
4. Helps ensure that damaged insulin will never be the cause of your unstable blood sugar again.

The FDA allows up to 5% potency loss in perfect storage condition. Add in a less than perfect storage condition - which is more likely to cause a potency loss - and you'll potentially experience unexpectedly high blood sugar levels and increased side effects.

But most people aren't aware that insulin is fragile and vulnerable to extreme temperatures. Even a small change in temperature may lead to a significant loss of potency or complete ineffectiveness.

Remember: an "imperfect condition" could be defined as when you are carrying your insulin in your car, carrying it to work in a bag, spending time on the beach, or traveling to new places aboard an airplane. These varying situations are the primary reasons behind the potency loss of your insulin, making it less or totally ineffective.

However, by using the VIVI Cap 1 you can carry your insulin with you wherever you go without any worry of damage, spoiling, loss of potency, and other issues. This helps to support you with the peace of mind and comfort knowing that you're taken care of in advance… no matter your age, gender, background, or lifestyle.
---
5. VIVI Cap 1 features cutting-edge technology that actually helps you save more money.

Did you know that the cost of a damaged insulin pen is more than $100? This can seriously add up!

Add to this potential emergency room visits or DKAs due to extremely low blood sugar levels caused, lowered potency or ineffectiveness of the insulin pen… and you're facing $1000s in additional unexpected expenses, which can completely destroy your peace of mind and sense of security.

So if you are thinking the VIVI Cap 1 will break the bank, you couldn't be further from the truth! Aside from its affordable pricing, VIVI Cap 1 also saves you from the unnecessary costs of damaged or spoiled insulin, while ensuring you are getting the most out of your money!
---